11 Tuscany foods that are definitely a must-try!
Besides unparalleled natural beauties and an impressive architecture that travels visitors back in the most glorious of times, Tuscany is also home to incredibly delicious dishes. From cheeses to wines and from meat products to sweets, there is definitely a lot to pamper your palate with. 
Now, the challenging part is to start from somewhere! To help you decide which foods to try first, we have made this list with 11 must-try tastes that will certainly provide an utterly rewarding culinary experience. Of course, you won't find any wines here as they are a separate category on their own, given that Tuscany produces some of the finest wines worldwide. 
Prosciutto Toscano 
Prosciutto Toscano is a meat (pork) product that has been produced under stringent traditions and laws since the 15th century. The ham is salted and left in the air to dry for 12-16 months. Unlike other ham products, Prosciutto Toscano is often cured and spiced with a blend of flavors traditional in the local cuisine, including juniper, rosemary, garlic, and pepper. This gives Prosciutto Toscano a tangy taste and a lovely herbal aroma.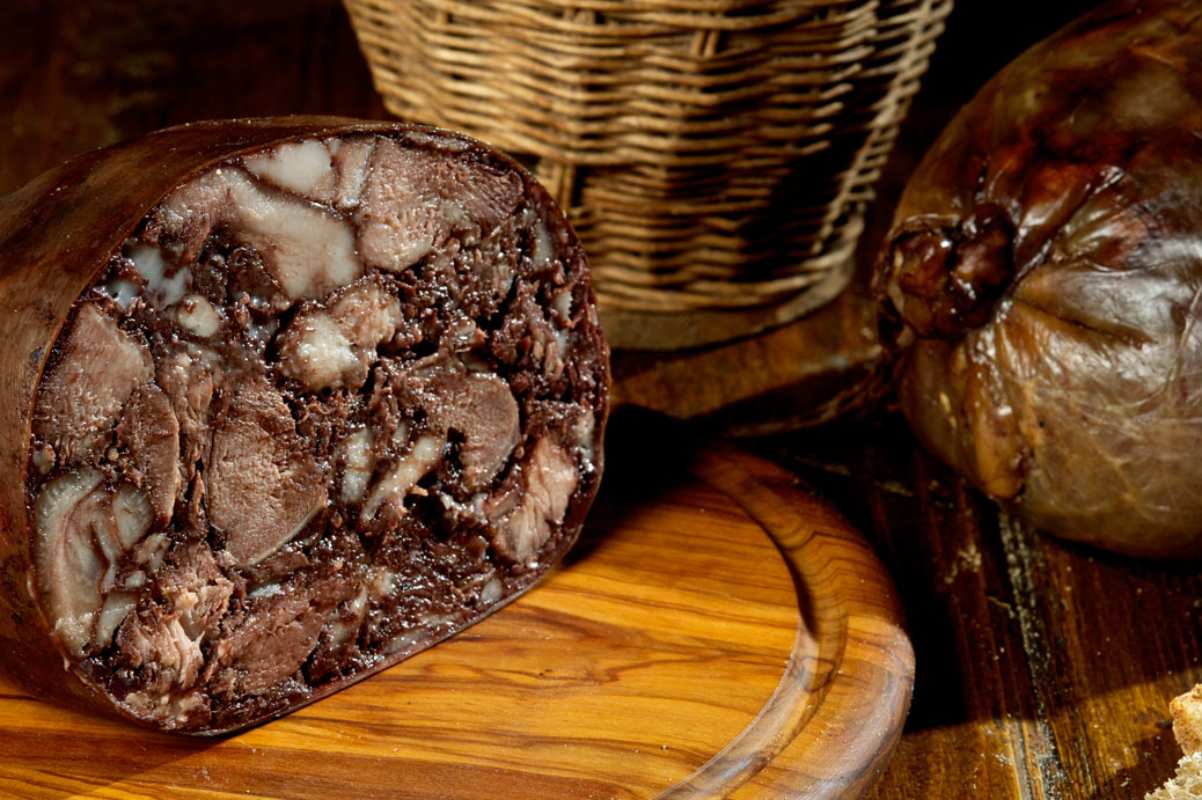 Biroldo Della Garfagnana
This is actually black pudding and one of the best salamis in Italy. Another spicy meat product that contains star anise, cinnamon, cloves, and nutmeg, among others, and pleases taste buds with its soft texture and delicate flavour. You will usually find it on bread slices, particularly Tuscany-favourites potato and chestnut bread. 
Finocchiona 
Back in the Middle Ages, people would use fennel seeds (the region of Tuscany was thriving with these) instead of pepper, which was a particularly costly ingredient at that time. Fennel is translated as finocchio in Italian and has given its name to another typical Tuscan salami, Finocchiona. This particular type of sausage is made from finely ground pork and is seasoned and flavoured with garlic, peppercorns, pepper, and salt. Some producers even add flowers to the recipe, complementing its pronounced aroma even more. Finocchiona makes a perfect appetizer, served with unsalted bread and pecorino cheese. 
Guttus 
Guttus is a blue cheese with a spicy and intense flavour to it. It is made from ewe's milk, and some people describe it as a sheep's milk gorgonzola. The milk is obtained mainly from the Grosseto province during the months of November and May and is then left to age for four months with a slowly dried curd. The final product is ideally paired with honey or chocolate. As for its name, it is believed that it comes from an Etruscan prince who loved mouldy cheese foods! 
Mortadella di Prato
Not as popular as its Bologna mortadella sibling, Mortadella from the Prato region still has a prominent spot in locals' tables (and not only). Its origins lead back to the 16th century, and is a primary ingredient for tortellini fillings. This delicious cold cut is a mixture of sea salt, garlic, pork meat, and spices that has had its recipe slightly altered to make it more suitable to today's taste as it was quite a "heavy" food. As for its characteristic flavour and dark colouring, it owes it to alchermes, an ancient liqueur mainly used in sweets. You can enjoy it diced or sliced (either cold or warm) with local appetizers, such as liver pate crostini.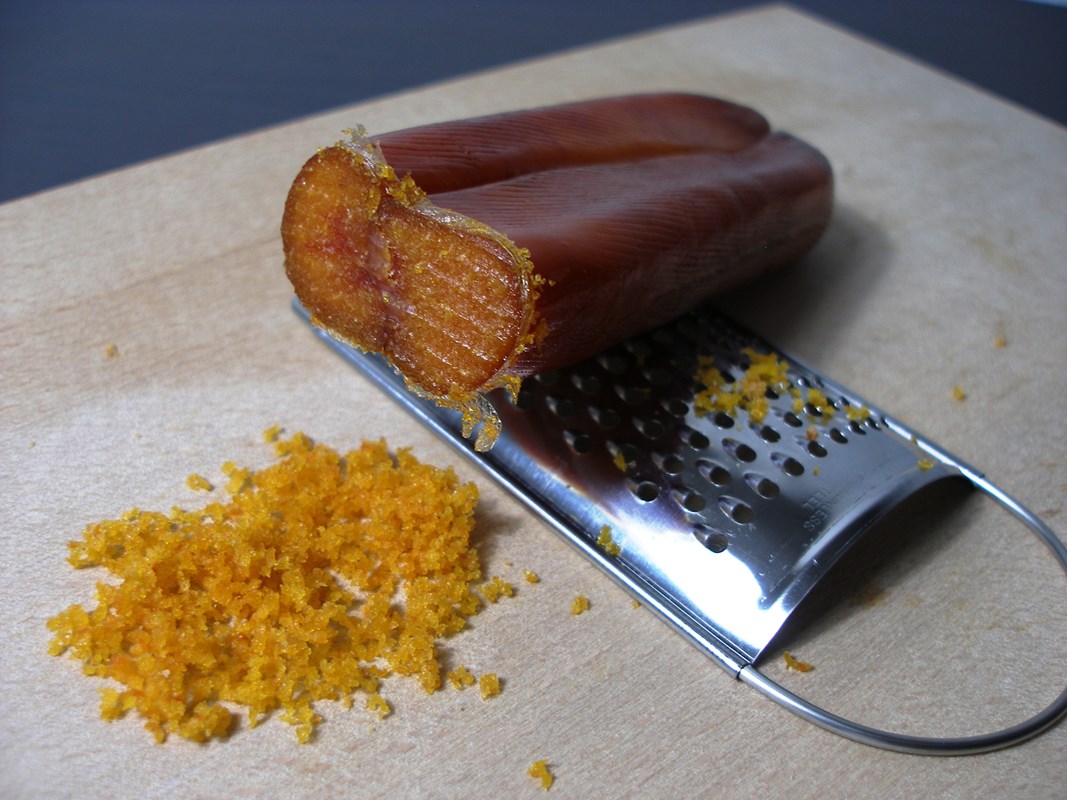 Bottarga di Orbetello
Fish dish lovers will probably find this one quite pleasurable and refined. Bottarga di Orbetello is a salted mullet roe (cured fish) from Orbetello province that requires a skillful fish technique to make it. You will be able to tell you are tasting Bottarga from its intense flavour that comes from salted mullet eggs left to dry for about 10 days. It is usually eaten either decadently grated over pasta or cut into thin slices and drizzled with a few lemon drops and extra virgin olive oil. 
Pappardelle
Pappardelle is a type of pasta with flat and large noodles made from egg-based dough. The difference between pappardelle, spaghetti and other pasta types is that pappardelle is more flavourful and richer-tasting. It is a dish that definitely stands by its name (pappare means "eating with the pleasure of a child") as it is an unbelievably satisfying food, especially when paired with ragus or hearty and thick meat sauces. 
Lardo di Colonnata
As its name suggests, Lardo di Colonnata is a lard-made dish (from fatback) that uses raw, organic lard which has been salted first. Then, the product is seasoned with coriander, garlic, rosemary, and pepper and left to age for around 6 months in tailor-made marble tubs called canaloni. You will see it served all across Tuscany, but it is produced primarily in the province of Massa Carrara – specifically, in a small village counting a few hundred residents called Colonnata (close to the famous Carrara marble quarries – up on a cliff) – between September and May. The end product dazzles with its sweet taste and fragrant aroma that is enriched with aromatic herbs and spices. Lardo di Colonnata is usually served sided with sliced onions and tomatoes or over warm toasted bread slices. But, don't be surprised if you see it among the ingredients of ice cream!
Sfratto Dei Goym
Also known as Sfratto di Pitigliano, Sfratto dei Goym is a sweet pastry Italian dessert whose name originates from the persecution/relocation of the Jewish people from the Popes and Grand Duke of Tuscany (others say it was Cosimo II di Medici who decided this relocation) in the 1700s. This wonderful sweet is actually a cookie shaped like a stick (symbolizes the eviction of the Jewish people) and has a delicious filling of nutmeg, orange peel, honey, and chopped walnuts encircled by a thin layer of unleavened dough. 
Pecorino Toscano 
Pecorino is a soft cheese (some producers prefer to make it semi-hard) made with sheep milk from sheep feasted on pastures between the Tyrrhenian Sea and the Apennines, with a sweet yet delicate flavour. Unlike other Pecorino varieties, the Tuscan cousin is not overly salted. At first, it was referred to as Cacio Marzoline ("March cheese") because its production began in spring. Today, it is available throughout the year, either fresh or matured for more than four months. It is an excellent table cheese that may even be grated and sprinkled over hearty potage soups or pasta dishes. Some people enjoy it with honey, jam, and fresh fruits and vegetables. 
Pesca Regina di Londa
Pesca Regina di Londa is a specific variety of fresh peach that ripens in mid-September and has red and green skin and a fragrant and sweet pulp called the Queen of Londa (Pesca Regina di Londa is translated as such). Locals admit that the best way to consume it is by taking it directly from the tree, but it also makes tasty jams. Come on the 2nd Sunday of September in the Florence provinces of Mugello and Valdisieve and join the party that is held to honour Queen Londa! 
Ready to begin your gastronomic adventures in Tuscany? Or prefer to have your private chef prepare the most delicious Tuscany foods at the comfort of your luxury Tuscany villa or farmhouse? The choice is yours. In any case, you are bound for an exquisite experience worth living when visiting this enchanting Italian region.
Featured photo by bruce mars on Unsplash