How to Get to Mykonos (Best ways to travel to Mykonos)
You may step foot on the Island of the Winds either by plane or ferry. Here are the details you need to know: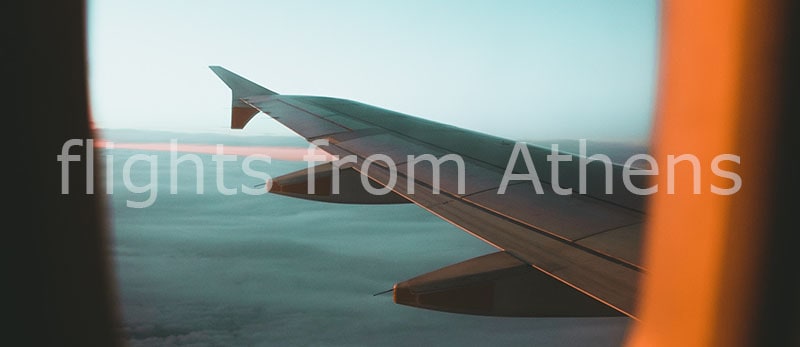 Flights from Athens
Every major airport has direct flights to Athens. Then, there are around 18 flights from the Greek capital to Mykonos on a daily basis in the summertime. It won't take more than 35 minutes to get there, and the airfare usually ranges between 25 euros and 140 euros, depending on which airline you fly with and what seat.
Both Olympic Air and Aegean Airlines, which, by the way, are the same airline, have around 7 flights from Athens to Mykonos every day during high season. If you choose Olympic Air, expect to fly with a Dash 8 prop plane of no more than 70 passengers while Aegean Air provides bigger planes (Airbus 320) for nearly 170 passengers. Other air carriers with direct flights to Mykonos are Volotea, EasyJet, and Ryanair.
Flights usually depart every 3 hours with the first one being at 5:35am and the last flying to Mykonos Airport at 22:00. As for the return flights from Mykonos to Athens, the first one takes off at 6:40am and the last one at 23:10.
Finally, you will also find direct flights from large European capitals, such as Rome, Paris, Dublin, London, and Amsterdam to Mykonos. To see available flights, you can visit Kayak.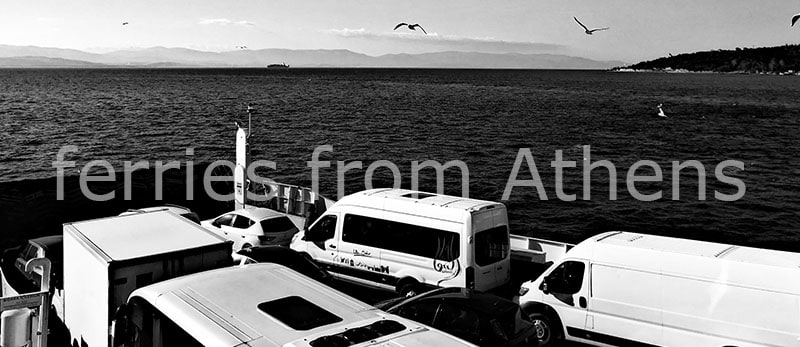 Ferry Schedules from Athens to Mykonos
In the summer months, Mykonos is served by four ferries daily that depart from Piraeus port or Rafina port, and fares cost from 20 to 40 euros (Blue Star ferry is the cheapest). It is a journey that can take between 2 and 5 hours, depending on which passenger/car ferry line you choose (SeaJets is the fastest ferry).
Blue Star Ferry

– It leaves Athens at 7:30am year round and reaches Mykonos some 5 hours later (at around 12:45pm) after it stops in Syros and Tinos islands. There are also ferries that depart from Rafina port (closer to the Athens Airport than Piraeus port) at 7:40am and arrive at Mykonos within 3 hours. This applies to the summertime only, though. If you miss the morning ferries, there is an evening ferry that departs from Rafina port at 5:30pm (with

FastFerries

) and will get you there by 10:10pm. As for the return trip to Athens, a ferry departs at 3:30pm and arrives in the Greek capital 3 hours later.

Hellenic Seaways

– The shipping company has a Highspeed car ferry that departs Piraeus port at 7:35am from late March to early September (always according to 2018 schedules). There is also a Highspeed passenger ferry that leaves Rafina port at around the same time and arrives in Mykonos slightly over 2 hours later at 9:25am.

SeaJets

– From late March to late October, a catamaran will take you to Mykonos in 2½ hours with stops in the islands of Naxos and Santorini – it departs at 7:00 or 7:30 in the morning and arrives at 9:30am. Their fastest ferry is the SeaJet2; however, it is also the smallest of the line and could give you a bumpy journey if the sea is rough. Nevertheless, the ferry line sends its larger ships to take passengers from Athens to Mykonos during July and August.
Notes:
Ferry schedules may change with little notice so make sure you double check the sailing times before you travel.

GTP

is a great platform to search for ferry routes.
Always buy your ferry tickets in advance either via the ferry lines directly or the

FerryHopper

platform.
But i have more questions…:

How to get to Mykonos from Athens?
You may either take a direct flight from Athens International Airport (ATH) to Mykonos Airport (JMK) or a ferry that departs from Piraeus or Rafina ports.
How to get to Mykonos from Athens airport?
Several airlines fly from Athens airport to Mykonos every day, especially during the months between June and mid-September. You may use websites like Expedia to search for the most convenient price and flight schedules.
Which airlines fly from Athens Airport to Mykonos Airport?
Olympic Air, Ryanair, Blue Air, Sky Express, and Volotea are all airlines that have direct flights from Athens International Airport (ATH) to Mykonos Airport (JMK).
How long does it take to get from ATH to JMK?
The trip takes less than 2 hours (approx. 1 hour and 45 minutes), including transfers. Direct flights from Athens Airport to Mykonos Airport take 35 minutes.
How to get to Mykonos by ferry?
There are several ferries departing daily from Piraeus port (Port Gate Ε7) to Mykonos New Port (Tourlos area), and from Rafina port to Mykonos New Port. The trip lasts from 2 hours (with speed ferry) and up to 6 hours (with conventional ferry). From Rafina port, the route lasts slightly shorter – between 2-4 hours (shorter route with a high-speed ferry).
How much is the ferry from Athens to Mykonos?
Fares to the ferries that run the Athens-Mykonos route cost from 20 euros to 40 euros, with the cheapest one being the Blue Star, which leaves Piraeus port to the Cycladic islands, Mykonos included. It is recommended to book them in advance, especially during high season (July and August).
What is the fastest ferry from Athens to Mykonos?
This would be the SuperJet from SeaJets – a small catamaran that reaches 38knots (not very comfortable in rough seas, though). Also, Fastferries Theologos P. and Hellenic Seaways HighSpeed 6 will get you to Mykonos within a couple of hours.
What are the main ferry companies that connect Athens with Mykonos?
First is Blue Star Ferries – a ferry leaves at 7:30 am and takes 5hrs to get from Piraeus Port to Mykonos, with stops at Tinos and Syros islands. Then, Hellenic Seaways – a ferry departs from Piraeus Port at 4:00 pm and arrives at Mykonos in under 5 hours while another ferry leaves from Rafina Port at 7:15 am and reaches Mykonos 2 hours later. Finally, there is SeaJets, with ferries traveling from Rafina Port at 7:40 am and 3:00 pm and arrive at Mykonos after 2 hours. Also, Fast Ferries and Golden Star Ferries.
Which is the closest ferry port to the Athens International Airport (ATH)?
Rafina port is the closest to the Eleftherios Venizelos Athens International Airport and the second largest port in Athens. It serves itineraries to some Cyclades islands, including Mykonos.
How to get to Mykonos on the cheap?
If you book your tickets in advance, you will be able to find the cheapest prices available. This includes both flight costs and ferry fares.
How to get to Mykonos from Santorini?
Taking a ferry is the fastest and cheapest way to get from Santorini to Mykonos. The trip is around 2½ hours and there are 4 ferries operating on a daily basis (from SeaJets, Golden Star Ferries, and Hellenic Seaways) between the May-October high season. If you choose to go by plane, you will need to fly to either the Thessaloniki or Athens Airport and then take a flight to Mykonos, which will take you about 6 hours on average to get there.
How to get to Mykonos from London?
EasyJet (direct flight from London-Gatwick), British Airways (direct flight from Heathrow), and Thomson Airways (from London-Gatwick) are all airlines with seasonal flights from London to Mykonos. The flight takes around 4 hours. You may use websites like Skyscanner to get an idea of flight schedules and costs. To save money, you could consider taking connecting flights to Mykonos. For example, you may find a deal on a flight to take you to Athens and then an Aegean Airlines (up to 7 flights per day between June and July), Ryanair, or Volotea flight to Mykonos (a 50-minute flight).
How to go to Mykonos from Turkey?
One option is to go by plane. Aegean Airlines, Olympic Air, Turkish Airlines, and Pegasus Airlines fly from and to Mykonos from Izmir. Or, you may take the ferry – SeaJets, Blue Star Ferries, and Hellenic Seaways will serve you fast.
How far in advance must I book my ferry to Mykonos?
If you are coming in the high season (between mid-June and late August), you need to book, at least, one month in advance, especially if you are bringing a car or want a private bunk (when taking the ferry). No need for advance booking in the off-season.
How to get to Mykonos from Rome?
The fastest way to get to Mykonos from Rome is by taking a direct flight from Rome Airport (FCO) to Mykonos Airport (JMK). Vueling, Iberia, EasyJet, and Aegean are the airlines that serve this route, with the first two having direct flights to Mykonos (trip takes 2 hours and 10 minutes) while the other two have connecting flights (expected duration of flight between 6 ½ hours and 7 hours and 40 minutes respectively).
What is the best way to get to Mykonos from New York?
The cheapest way is by taking a flight route between New York Airport (JFK) and Mykonos Airport (JMK). Thomas Cook Airlines, EgyptAir, Delta, Alitalia, Swiss Airlines, and Lufthansa are some of the airlines with the shortest route and cheapest tickets.
How do I get to Mykonos (JMK) Airport from Mykonos Town?
The bus is the best way to get to Mykonos Airport from downtown or Chora, and it will take you approx. 10 minutes. Go to Fabrika bus station (Mykonos New Port area) and take a bus to the airport (they run every 30 minutes). The ticket costs around 2 euros. You may also go by car (just 3km/1.9miles from Mykonos Town to the airport).
Enjoy your Mykonos experience!
Search for Luxury Mykonos Villas for Rent here!